Skip to Content
Artificial Grass for Bocce Ball Courts in Phoenix, AZ
If you want to add a place for fun, excitement, and exercise to your home or business in Phoenix, AZ, consider a bocce court. Arizona Artificial Lawns installs artificial grass bocce ball courts for home and business owners in North Phoenix. Synthetic turf is ideal for bocce ball, whether you want to give your children or an elderly parent a fun way to exercise or you're considering adding bocce ball to your commercial entertainment facility in Scottsdale or Paradise Valley. Bocce ball is an easy game that your whole family can enjoy. Synthetic grass bocce ball courts are an excellent addition to senior housing communities, apartment complexes, recreational facilities, and more. Learn more about artificial turf installation and get in touch with our experts for an estimate.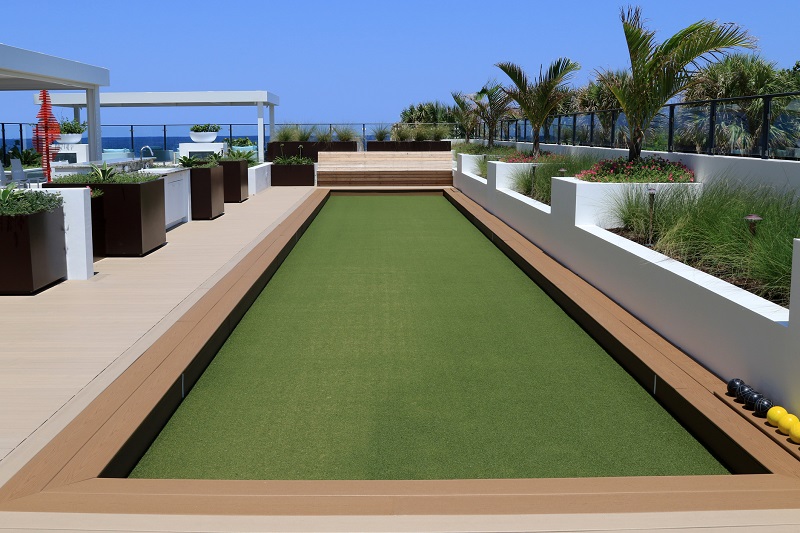 Superior Artificial Turf for Your New Court
Artificial turf is one of the best choices you can make once you've decided on a bocce ball court for your property. You'll enjoy a lush green playing space year-round. Artificial grass is a much more aesthetically pleasing choice for a bocce court than crushed rock or dirt. You won't need to maintain the court much as it will only require minimal care. Keep the following elements in mind when determining the best substance for your new bocce court:
Proper Drainage – You will want to select an artificial turf that handles fluids well. When it rains in Arizona, your bocce court should drain water quickly to allow you to continue playing without a lot of downtime.
Short Pile Height – Your artificial grass bocce court should have a short pile height for a more even playing surface. Be sure you have a short distance between the top of the blade of artificial grass and the backing so your game won't be slowed down by tall grass.
Thick Grass – Your bocce ball court should have putting green-style grass. Low-profile grass will allow the bocce balls to roll evenly.
Bocce Court Care & Maintenance
Choosing artificial grass installation from Arizona Artificial Lawns will help ensure caring for and maintaining your bocce court is easy. You won't need to mow or weed your court with artificial turf. Just remove debris such as twigs or leaves. Rinse your court off with water to get rid of dirt and dust.
The Benefits of Turf Bocce Ball Courts
When deciding which material to choose for your new bocce court, it's essential to consider all the benefits of artificial turf. Bocce can be played on multiple court surfaces, including stone dust, clay, grass, and dirt. Check out some of the reasons why artificial grass is your best option:
Artificial turf looks just as beautiful as natural grass
Other substances such as dirt or clay require extra materials and effort to maintain a smooth surface
Turf is flat, allowing the bocce balls to roll and enhancing game strategy
Save time and money on hassle-free maintenance
We can install a weed barrier to prevent weed growth
Artificial turf is allergen-free and non-toxic
Synthetic grass drains faster than real grass
Artificial bocce courts can be installed on most surfaces
No dealing with mud, gravel, or grass stains
Interesting Facts About Bocce Ball
Once you decide you want to add a bocce ball court to your property, you should know some interesting facts about how the game was created, the rules, and more. Check out these fun facts on bocce ball:
Popular in Italy but has gained popularity in North America
Sometimes referred to as lawn bowling
Has appeared in cave paintings
Popular in Greek and Roman empires
Official bocce ball court size is 76' by 10'
Bocce ball kits contain eight large balls, a small target ball called a jack or pallino, and a tape measure to settle disputes
The sport of bocce was outlawed in Venice in 1576 as a form of gambling
Get Your Bocce Court Estimate Today
Arizona Artificial Lawns would be happy to answer your questions about installing a synthetic grass bocce court for your home or business. We also install putting greens, playgrounds, batting cages, and more. Contact us today to get your bocce court quote.